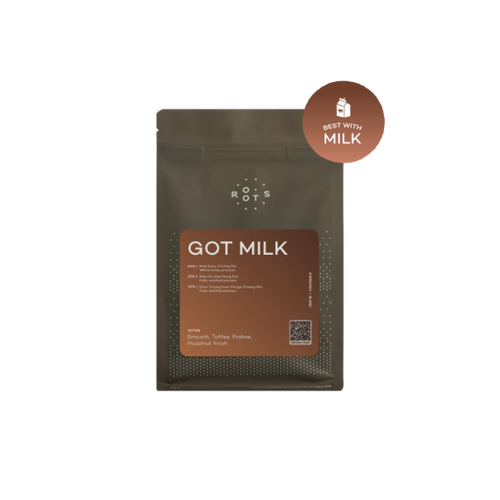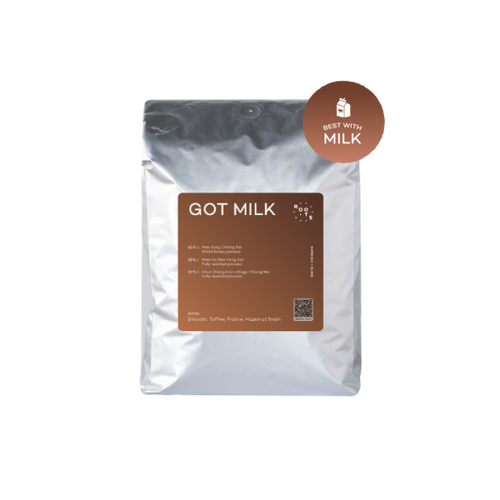 Espresso coffee
GOT MILK BLEND
300.00 ฿ Regular price
Note
Smooth, Toffee, Praline, Hazelnut finish
Composition
65% Mae Suay, Chiang Rai (White honey process)
25% Mae Ho, Mae Hong Son (Fully-washed process)
10% Khun Chang Kian Village, Chiang Mai (Fully-washed process)
GOT MILK BLEND
Regular price 300.00 ฿
About the Product
For those looking for coffee that combines deliciously with dairy or plant-based milk and has a clear coffee flavor with a nutty taste, we recommend the G Blend.

Our intention with the G Blend is to make it enjoyable and delicious to drink with milk. To make that happen, we selected two coffees with a sugar browning tone to blend together: fully washed processed coffee from Khun Chang Kian village in Chiang Mai and Honey processed coffee from Chiang Dao in Chiang Mai. This is a medium roast coffee, and what's special about it is we roast fully developed beans so that when mixed with milk, it results in a distinctly molasses-like flavor like roasted almonds.

We suggest drinking this coffee by brewing it as a double shot mixed with 7 to 11 ounces of milk!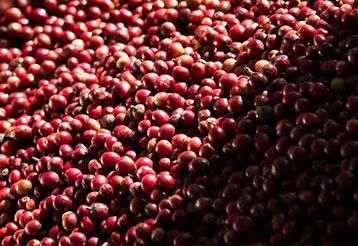 Delivery Overview
Every order purchased before 11am on Monday - Friday will be delivered to your door within 2 days.
Every order purchased after 11am on Friday, Saturday and Sunday will be delivered to your door within 3-4 days.
FREE SHIPPING for orders over 400THB.
Please complete your payment within 2 hours, or your order will be automatically canceled.
All orders will be delivered using SCG Express.