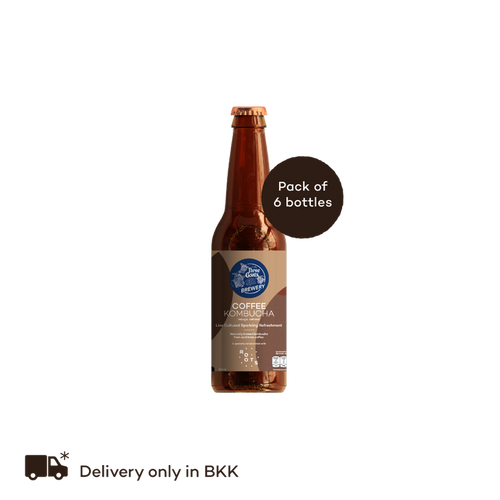 Coffee Kombucha (Set of 6 Bottles)
1,020.00 ฿ Regular price
Note
**Delivery available only in Bangkok.
Coffee Kombucha (Set of 6 Bottles)
Regular price 1,020.00 ฿
About the Product
Roots' Coffee Kombucha wouldn't be this delicious without help from our friends, Three Goats Brewery!
We've actually been fans of Three Goats Brewery for quite some time now because they are a Thai kombucha brand that are meticulous about every step that goes into each bottle and flavor, down to the species of microorganisms they use. They have a passion for experimenting with new things and that's what brought us together.
For this Coffee Kombucha, we selected coffee beans suitable for making Kombucha (Kombucha usually uses green or black tea) to mix with sugar (food for the microorganisms), followed by the Scoby for the fermentation of Kombucha. It usually takes 15-20 days to create the perfect Coffee Kombucha! Both coffee and tea lovers can enjoy this delicious two-in-one drink.
** Delivery available only in Bangkok.
Delivery Overview
Every order purchased before 11am on Monday - Friday will be delivered to your door within 2 days.
Every order purchased after 11am on Friday, Saturday and Sunday will be delivered to your door within 3-4 days.
FREE SHIPPING for orders over 400THB.
Please complete your payment within 2 hours, or your order will be automatically canceled.
All orders will be delivered using SCG Express.