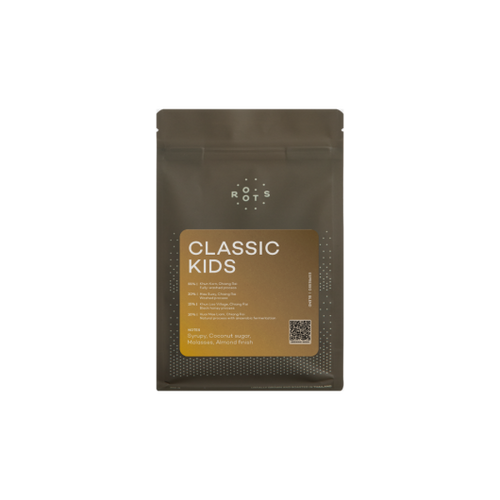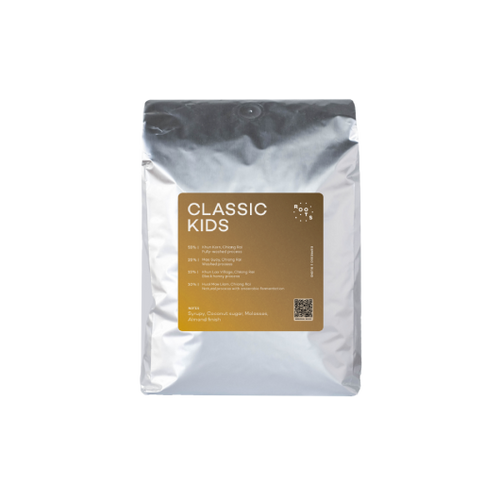 Espresso coffee
Classic Kids Blend
320.00 ฿ Regular price
Note
Syrupy, Coconut sugar, Molasses, Almond finish
Composition
55% Khun Korn, Chiang Rai (Fully-washed process)
20% Mae Suay, Chiang Rai (Washed process)
15% Khun Lao Village, Chiang Rai (Black Honey process)
10% Huai Mae Liam, Chiang Rai (Natural process with anaerobic fermentation)
Classic Kids Blend
Regular price 320.00 ฿
About the Product
If you like coffee that's smooth with intensity and low acidity, we would like to recommend the Classic Kids blend.

Although we like to think of ourselves as a new age roaster, there's still an old school spirit to us as well. It explains why we've chosen to introduce the Classic Kids blend. We wanted to bring out the beauty of a classic espresso blend of the 1970's, which used the method of blending the green beans before the roasting process. For this blend, we use High grown coffee beans that have been processed through various methods, from wash, natural, Kenya-style to honey process - this is what gives the coffee its signature Syrupiness.

This is a dark roast coffee. Our intention was to bring out as much sweetness as possible during the roasting process.
Delivery Overview
Every order purchased before 11am on Monday - Friday will be delivered to your door within 2 days.
Every order purchased after 11am on Friday, Saturday and Sunday will be delivered to your door within 3-4 days.
FREE SHIPPING for orders over 400THB.
Please complete your payment within 2 hours, or your order will be automatically canceled.
All orders will be delivered using SCG Express.